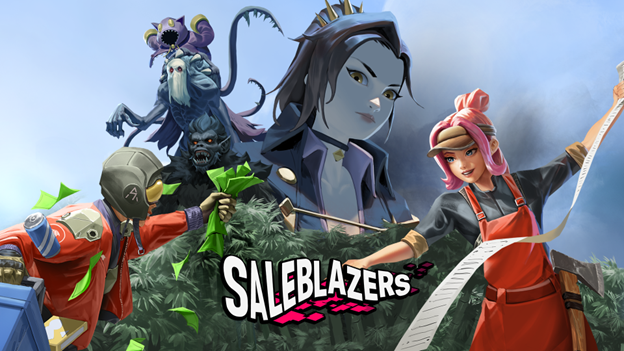 Multiplayer Shopkeeping Survival Game Saleblazers Launches into Steam Early Access this Spring
Build a retail empire solo or with friends in a dangerous open world!
TORRANCE, Calif. -- March 7, 2023 -- Airstrafe Interactive is thrilled to announce the upcoming early access launch of their debut title, Saleblazers! In this unique multiplayer shopkeeping survival game, you and your team will stock your shelves by any means necessary to build a retail empire while completing quests on a dangerous open-world island. Saleblazers launches into Steam Early Access this spring. Airstrafe Interactive revealed the news with an original CG trailer showing off the game's stylish action.
Stranded on a mysterious island, you'll have to sell and fight for your life to escape! Venture across the island searching for resources, but beware of powerful enemies and bosses who may stand in your way. Wield almost anything as a weapon to confront the challenges ahead – research and craft something mighty to equip, or pick up a random object and start swinging!
Saleblazers Early Access Features:
Survive an Open World Sandbox: Explore handcrafted, reactive, open-world island districts filled with rich lore and deadly enemies.
Build Your Dream Shop: Gather, craft, farm, fish, buy, or steal to stock your self-made shop! Construct and customize your store to lure the best customers and haggle for maximum profit.
Quest & Battle: Explore the handcrafted open world of Saleblazers. Complete quests and defeat bosses, experiencing the first acts of an ongoing narrative campaign as you work toward building a rocket ship to freedom.
Team Up with Friends Online: Build, quest, and explore together. Invade other players alone or with allies to peacefully trade for items - or attempt to steal their valuable resources for yourself!