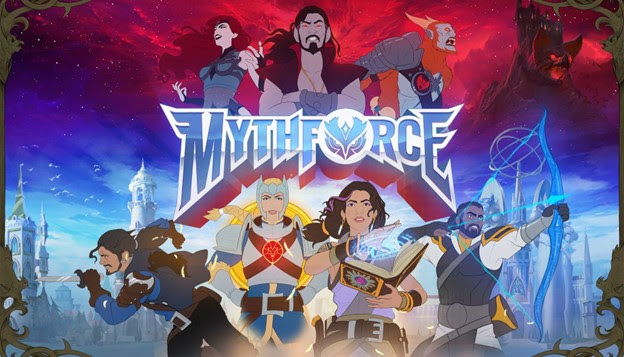 Step into a Saturday Morning Cartoon with MythForce™, Officially Launching on PC, PlayStation, Xbox & Nintendo Switch This Fall
Beamdog and Aspyr's roguelike action game prepares to exit early access on PC and land on consoles for the first time with two new story episodes and much more!
AUSTIN, Texas — June 21, 2023 — Developer Beamdog and publisher Aspyr have revealed that the roguelike action game MythForce is coming to PlayStation®5, PlayStation®4, Xbox Series X|S, Xbox One, Nintendo Switch, and Steam, as well as graduating from early access on the Epic Games Store, this fall. MythForce has a free Steam demo playable now through June 26 as part of Steam Next Fest. Experience gripping first-person combat in a world inspired by the style and adventure of Saturday morning cartoons!
"MythForce is a love letter to the cartoons of my childhood. It's reminiscent of the pure unadulterated fun we had playing together as kids. It was a lofty ambition for our first original IP, but we're extremely proud of how it has continued to grow and evolve throughout development," said Beamdog CEO Trent Oster. "We can't wait to share our game with the world and immerse our fans old and new in the nostalgic awesomeness that is MythForce."
MythForce is a roguelike adventure featuring four-player online cooperative multiplayer set in the ever-changing Cursed Lands. Unleash your inner hero in intense first-person combat, wielding legendary weapons and powerful magic in an immersive fantasy dungeon crawl that will test your skills and leave you craving for more.
The official 1.0 launch of MythForce on consoles and PC will feature three episodes (up from one in early access), unlockable difficulty modes for even greater challenges, and an overhaul of the meta-progression system with drop-in/drop-out functionality for online co-op.
Key Features
Star in Your Own Saturday Morning Cartoon: Step into a vibrant and colorful world crafted using the classic aesthetics and techniques of the '80s animation era.
High Fantasy Swords & Sorcery: Feel the thrill of each swing and the might of each spell as you smite hordes of enemies and emerge victorious in heart-pounding, first-person combat.
Deep Roguelike Adventure: Level up as you explore the dungeon, uncovering magical artifacts and upgrades to become even stronger with each playthrough.
Play Together with Friends: Team up with friends or meet fellow adventurers online to conquer the Cursed Lands together in co-op mode for up to four players.