Recently we received a plushy meant to be more than just a cute toy. Belly-Rub Pups are meant to take the place of your average pups while at work or somewhere you don't have access to a real pup to help you keep calm, stress less, and smile.
Initially I was like... okay, but I've taken time to sit with Chica Loca and rub her belly on numerous occassions. I think it its an okay concept when I think of how I feel about rubbing an actual pups belly. Doesn't have the exact same feel... because the real thing is the real thing but I like holding it.
They have 4 Belly-Rub Pups to choose from (I like the first two on the left the most). These two are the most toonish to me... and Chica Loca name fits her perfectly (and she's a perfect fit for SDGT).
There isn't much to using the Belly-Rub Pups, you just follow the 3 super simple steps below. The 3rd step might be the hardest for some because laughing out of the blue (especially when you're pissed) might be a challenge... unless you're Joker. If you need a reminder to calm down, this could serve a purpose at work.
I think a Belly-Rub Pup would be a great Secret Santa gift for the hothead on the job (and they won't know who gave it to them). It also comes with a durable stretchy storage bag too... which will further extend the life of the product. It's not being presented as a product for kids, so I don't see it being played with like a standard toy, but perhaps it could help a child with anxiety and anger.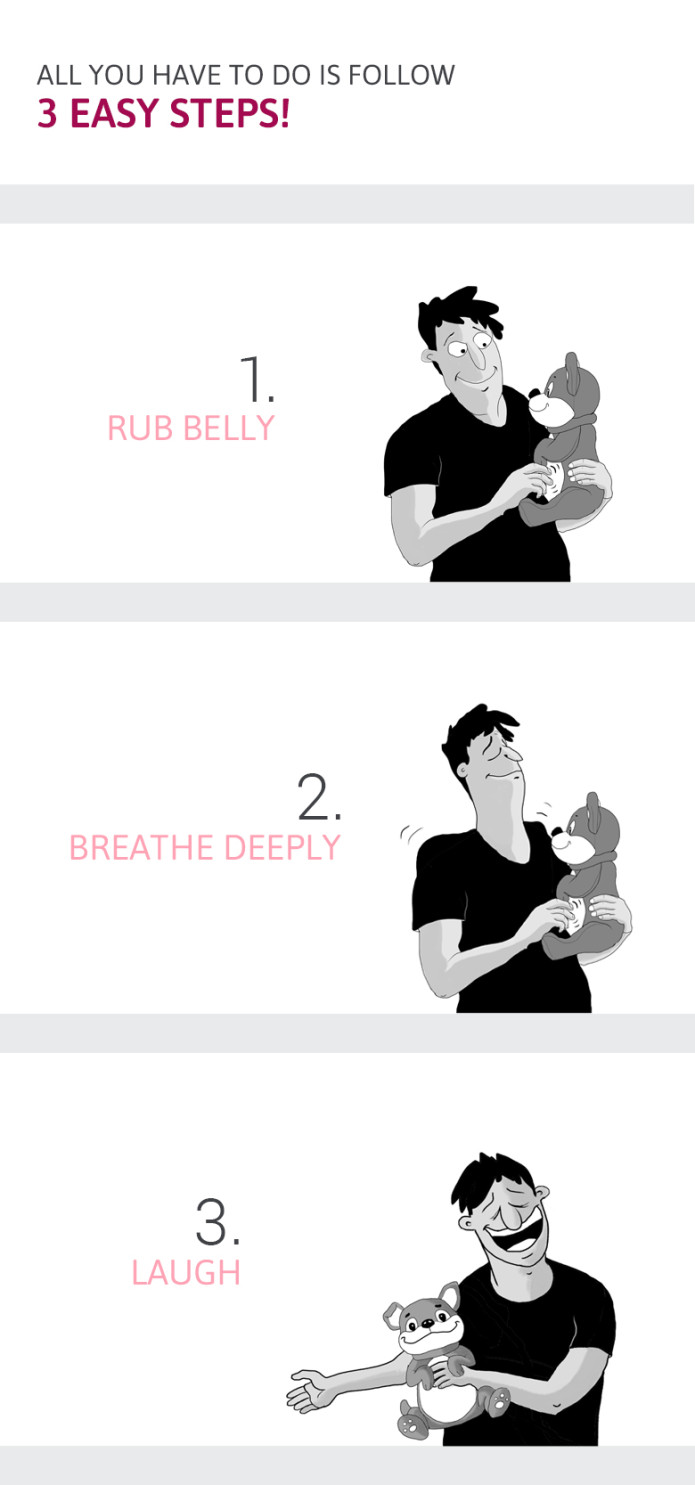 The plushy's fabric feels good, stitching is tight and doesn't feel like it will just fall apart... if you're wondering (I don't know of any teddy bears that fall apart to be honest). It reminds me of the way the authentic beanie babies feel.
The Indie GoGo goal was met shortly after launch... but there were still 20 or so days remaining by the time this review was posted.
https://www.indiegogo.com/projects/belly-rub-pups-are-here-to-relieve-your-stress#/
If you make it in time... you're able to get a Belly-Rub Pup for a lower price than the suggested retail price of $40. For me... this price just feels a bit too steep, and the ultimate goal should be to get it to $19.99... $25 at the highest.
Usefulness: 4
Visual Appeal: 5
Quality: 5
Price: 2
"4 / 5 Cool Points"